The "Playing to Win" art exhibit is popping up in Los Angeles!
October 24th - Collectors Preview (Invite Only) 6:00-8:00 pm
Open to the General Public 8:00 pm - 1:00 am
October 25th - Block party with live painting, games, music & more 4:00 pm - 1:00 am
3430 S. Hill Street Los Angeles, CA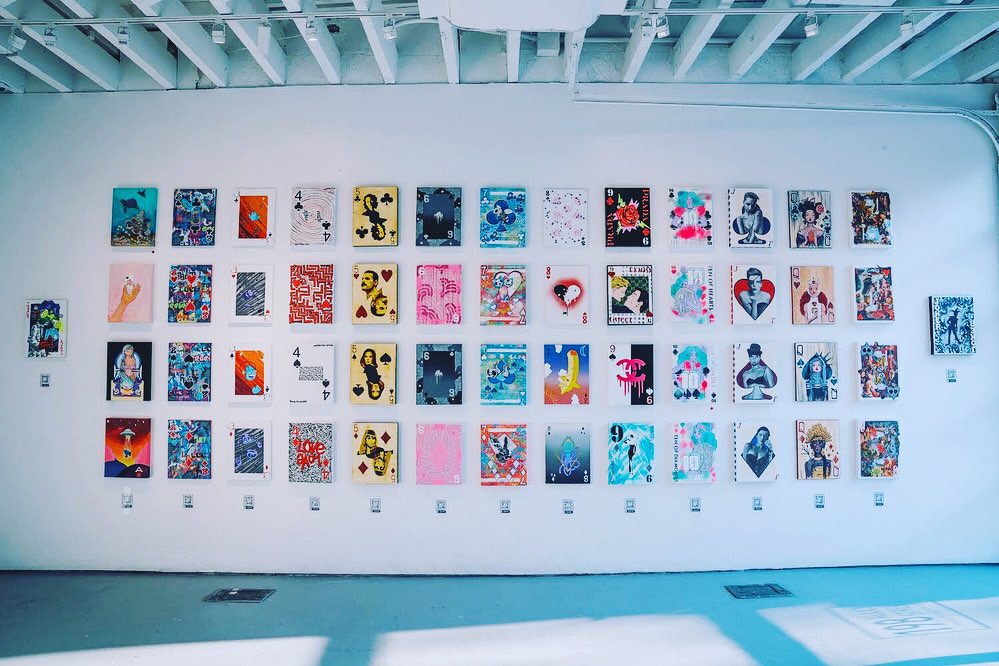 54 cards by 15 artists create "Playing to Win"
(photo by @sebask)
The
"SweetheART POP" Tour
featuring
"Playing to Win"
an art exhibit curated by
Rachael N. Clark and Lari Umeri
Queen of Hearts is pleased to announce an international collaboration with Brazilian artist and curator Lari Umeri of ChocoLari Strategy to host an interactive lounge in five cities across the US and Brazil (New York, Honolulu, São Paulo, Los Angeles, and Miami). Each SweetheART POP lounge will feature the "Playing to Win" art exhibit curated by QoH and ChocoLari, displaying 54 paintings by 15 artists from Brazil and the US that create a large-scale deck of playing cards.
The Tour launched in the Lower East Side of New York City at 198 Allen Street at a private collectors preview on July 29th and was open to the public July 30th and 31st before moving to the Lana Lane Studios in Honolulu, Hawaii. Playing to Win returned to NYC in September when QoH was the Curator in Residence at the Brooklyn Beer Garden. SweetheART POP Los Angeles featured local artists painting live, as well as musical acts arranged by the Mount Vernon label, Queen of Hearts' new collaborative partner.
The lounge is an immersive space for relaxation and creativity, as well as an opportunity to have fun. In addition to viewing the "Playing to Win" art exhibit, visitors are invited to relax in the lounge, play cards, attend artist talks, watch live painting and take part in a virtual reality immersive experience.
Please follow us on Instagram @greenguccigirl and @loveslari to get the latest information about our next lounges in São Paulo and Miami.
We Heart Street Art
is the curatorial endeavor launched by Rachael N. Clark to showcase street artists from around the world.


New York Peace Institute: Peaceraiser 6 "Power to the Peaceful" charity auction
May 16, 2019
Hudson Terrace, New York, NY
Street heARTS: Valentines & Confessions
February 14th — February 24th, 2019
The Old Bowery Station, 168 Bowery